1. Where do you deliver to?
At The Naked Laundry, we want to share our beautifully designed crop tops with the world. This is why we deliver to anywhere in the UK, Northern Ireland, Europe and most International destinations.
2. How much is U.K. Delivery? 
Free UK Delivery on all orders (2-5 working days)
Next Day Delivery (U.K) : £4.99 (1 working day*) 
*CUT OFF TIME IS 12PM MONDAY- FRIDAY. ORDERS PLACED ON SATURDAY AND SUNDAY WILL BE DISPATCHED ON MONDAY.
3. How much is it to deliver outside the U.K?
FREE EUROPE AND INTERNATIONAL SHIPPING FOR ORDERS OVER £100.
Standard Delivery (Europe) : £9.05
Standard Delivery (International): £10.50
Here is the list of destinations we deliver to: 
Europe: 
Albania, Andorra, Armenia, Austria, Azerbaijan, Belarus, Belgium, Bosnia and Herzegovina, Bulgaria, Croatia, Cyprus, Czechia, Denmark, Estonia, Finland, France, Georgia, Germany, Greece, Hungary, Iceland, Ireland, Italy, Kazakhstan, Kosovo, Latvia, Liechtenstein, Lithuania, Luxembourg, Malta, Moldova, Monaco, Montenegro, Netherlands, North Macedonia (formerly Macedonia), Norway, Poland, Portugal, Romania, Russia, San Marino, Serbia, Slovakia, Slovenia, Spain, Sweden, Switzerland, Turkey, Ukraine, United Kingdom, Vatican City (Holy See)
International: 
North America, South America, Africa, the Middle East, the Far East and South East Asia.
 *Please note there may be delays on orders over busy periods i.e. Christmas and bank holidays
4. How long will it take my order to arrive? 
U.K. : UK standard delivery (2 – 5 working days)
U.K. : Next Day Delivery (1 working day)
Europe: European Standard (3 – 7 working days)
International: International Standard (5 – 7 working days)
5. Delivery Addresses & Signing for Parcels;
A signature will be required to acknowledge that a delivery has been made. Please ensure, that you or someone known to you is at your delivery address and is available to sign for the delivery. We will not be responsible where the person signing for the goods is not the person who has placed or paid for the goods.

If no one is available to accept the delivery, you will receive a calling card, along with an SMS message & email to advise that delivery was attempted along with details of how to rearrange the delivery or to collect from your local depot if you prefer. If the order is not collected or delivered within 7 days, the parcel will be returned to The Naked Laundry. 

Please provide a phone number and contactable email address in your account details so you can be contacted if necessary.

You are responsible for checking the condition of the items delivered (wrong item or damaged) and must highlight any issue within 2 working days upon receipt of delivery by sending us an email to our Customer Service team on nikita@thenakedlaundry.com. 

Please note, we are unable to cancel an order once the order has been dispatched. Amending a delivery address can result in a delay in delivery of 24-48 hours.
5. What do I do if there is a problem with my delivery? 
Not to panic, please check your spam and junk folders. Sometimes our confirmation emails can slide into your spam and junk folders. If you have checked those folders and the email is not there, just send an email to us on nikita@thenakedlaundry.com  with your order number and the email address you used to place the order and we will get one over to you.
6. Where is my item?
If you have received your order confirmation and your tracking information and your parcel has still not arrived, simply go to the website of the courier service used to deliver your parcel and enter your tracking number. If no results show, please contact us on nikita@thenakedlaundry.com
For any other queries, please send an email to nikita@thenakedlaundry.com.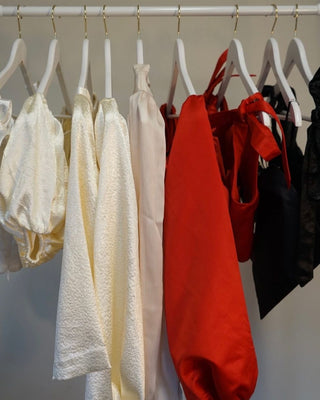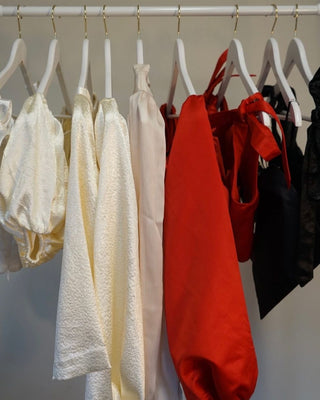 ABOUT THE NAKED LAUNDRY
OUR STORY
Welcome to The Naked Laundry, where East meets West in a seamless fusion of style. Founded in 2018, we're your go-to destination for curated fashion that effortlessly blends Asian and Western influences. From the perfect blouse for your sari to a chic skirt to enhance your lehenga collection, we redefine boundaries in every stitch. Join us on a fashion journey that celebrates diversity, creativity, and the beauty of individuality. At The Naked Laundry, we're not just a brand; we're a unique expression of cross-cultural elegance.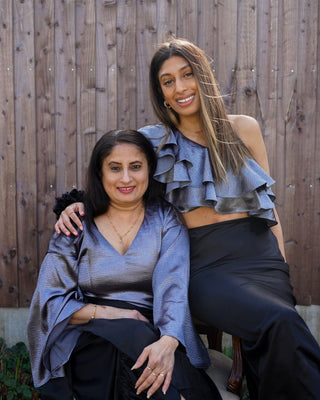 IT ALL STARTED WITH...
A wardrobe malfunction at university. Our founder Nikita needed a last-minute blouse to match a lehenga (skirt), and her mum posted a sari-blouse which ended up being too small. With no other options available, Nikita was left with a half-open blouse, held together with some safety pins. With many saris, lehengas and other South Asian outfits, each component is made to match with each other, leaving no room for mix-and-matching or fluctuation in sizing – and ultimately leaving that outfit sitting in your wardrobe. This sparked the idea of creating a brand which specialises in crop tops that can be worn as sari blouses, along with her western wardrobe.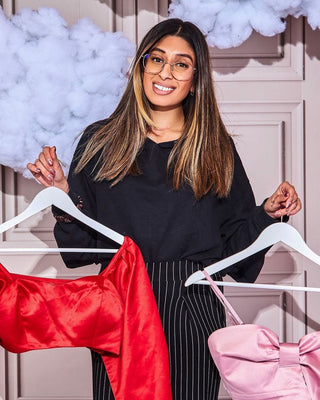 OUR MISSION IS TO...
Create timeless styles. We treat our styles as a blank canvas, where you can easily dress them up or down to make each piece personal to you. Each of our designs is created with three moments in mind – style, silhouette and tradition. With each piece, we envision how our customers would style that particular piece; whether that be with a sari, a traditional lehenga or jeans. At The Naked Laundry our core Indian heritage is at the forefront of everything we do. We aim to bring all elements of Indian tradition together with a modern twist to find the perfect blend that suits the needs of our growing British South Asian community.
AS SEEN IN...